What's Public Health Got to do with…Collaboration?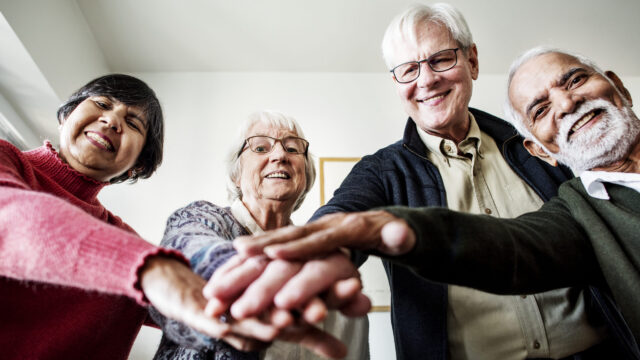 September 2021
By Karon Phillips Ph.D, MPH, CHES, Policy Development Manager
Public health and aging sectors have historically operated in silos. Both sectors have access to unique networks and resources, but often have not worked together. In some cases, at the local level, the leadership of aging and public health departments have never met. As we think about ways to support older adults and promote healthy aging, cross-sector collaborations are crucial. As a first semester Master of Public Health student, I remember sitting in my first class and introducing myself. I stated that I was specifically interested in supporting the health of older adults, and a few heads turned to look at me. Their eyes let me know that they were looking for a reason why I wanted to focus on older adults. I was surrounded by peers that were interested in maternal and child health and global health issues. They often asked if there was a specific health condition I was interested in or was I planning to work in a nursing home. That experience quickly showed me that work needed to be done to expand the idea of healthy aging and to highlight how public health intersects with the field of aging.
There are numerous opportunities for and examples of collaboration between the public health and aging sectors. Some agencies and departments have shared data on older adult health to assess the health needs of their community and co-develop programs. For example, the Florida Department of Public Health has worked with the Department of Elder Affairs to develop aging profiles for each of the 67 counties in the state. These profiles include data on infectious disease rates, life expectancy and other older adult health demographics. The Los Angeles Alliance for Community Health and Aging in California have demonstrated the value of partnering to support equity by teaching health management skills to older adults with chronic conditions, helping seniors avoid falls, and supporting family caregivers. While the COVID-19 pandemic has caused a lot of hardship and fueled many challenges, it did spark new and innovative connections between public health and aging. There have been several programs developed where the two sectors have worked together to address social isolation since many older adults were not able to participate in their normal social activities. In a workshop for regions 8 and 10 held by the U.S. Department of Health and Human Services' Office of Disease Prevention and Health Promotion, several states shared the importance of partnering with AARP, the Alzheimer's Association and the university system to address social isolation.
One of the elements of TFAH's Age-Friendly Public Health System (AFPHS) 5Cs Framework that speaks to the importance of collaboration is on connecting and convening multiple sectors. Public health practitioners excel at convening multi-sector stakeholders to address health and social challenges. The solutions are developed through collective impact approaches. As the public health and aging sectors continue to connect and collaborate, they are developing fresh and engaging approaches to address some of the critical health challenges faced by older adults.
On Thursday September 16th Carrie Molke with the Wisconsin Department of Health Services discussed the value and effectiveness of collaboration and how Wisconsin has broken down silos between public health and aging during an AFPHS training session. Read more about this exciting training.
August 2021: What's Public Health Got to do With… Emergency Planning?