What's Public Health Got to Do with… Ensuring Emergency Planning Meets Needs of Older Adults?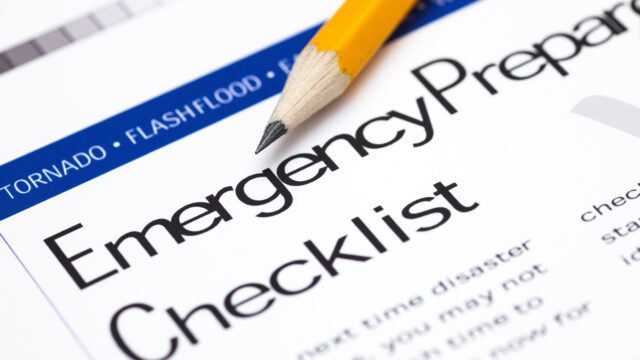 Public health emergencies can arise in a variety of ways, each with their own unique set of challenges for businesses, communities, and individuals. They frequently arise during or after the occurrence of natural disasters like hurricanes, tornadoes, or floods. But they can also develop as novel infectious diseases emerge, akin to what is perhaps the most recognizable international public health emergency of the 21st century, the COVID-19 pandemic. Regardless of the source of emergency, robust, resilient, and community-tailored preparations must already be in place to secure the safety and well-being of our nation's diverse populations. As the rate of climate and weather-related disasters continues to climb and threats to global health grow (e.g., antibiotic resistance), the need for public health preparedness becomes not only more apparent, but more urgent.
One of public health's key roles in emergency preparedness is ensuring that vulnerable populations are appropriately prepared, informed, and equitably served by a range of relevant stakeholders. Older adults represent one of these vulnerable populations, as many experience complex health needs that elevate their risk for adverse outcomes due to emergencies.
By 2030, one in five people in the United States will be 65 and older. This means that in just a few years, one fifth of our population will be at a greater risk for chronic disease conditions like heart disease, diabetes, and cancer, or neurodegenerative diseases like Alzheimer's disease or related dementias. This comes at a time when agencies like the National Centers for Environmental Information expect both the frequency and severity of weather-related disasters to increase, threatening the health and safety of our nation's older adults. Impaired mobility, cognitive deficits, chronic diseases, social isolation, and limited financial resources are all cited by the CDC as vulnerabilities that increase the risk of harm for older adults during emergencies.
In a 2012 survey published in Rand Health Quarterly, 15 percent of U.S. adults over the age of 50 reported they would not be able to evacuate their homes without help, and half this group reported they would need help from someone outside the household. Even the lasting impacts of disasters are exacerbated for older adults, exemplified by disproportionate increases in older adult hospitalizations after multiple tornadoes hit the Midwestern US and a surge in older adult emergency department visits after Hurricane Sandy.
Given this context, what role can public health play in reducing the risk of poor health outcomes among older adults during and after emergencies? Here are some specific strategies based on the Age-Friendly Public Health Systems 6Cs Framework.
Creating and leading efforts to prioritize older adults' health and well-being during emergencies by observing National Preparedness Month annually and hosting seminars that focus on promoting preparedness among older adults and their caregivers.
Connecting and convening key stakeholders across aging services, emergency services, and healthcare to build a community of partners committed to optimizing emergency preparedness systems and support for older adults.
Coordinating existing emergency preparedness supports and tools to produce a centralized hub of emergency protocols, evidence-based toolkits, and accessible resources for both older adults and their caregivers to use before and during an emergency.
Collecting, analyzing, and translating data on shortcomings of existing emergency systems to identify needs and disparities among older adults as well as pathways for strengthening their emergency resiliency.
Communicating the heightened risks older adults face during emergencies and ensuring that this population and their caregivers are well informed on available resources for maintaining health and well-being during an emergency.
Complementing general support systems for older adults by distinguishing and addressing the additional needs of certain groups among older adults, such as those with Alzheimer's disease and related dementias, those with impaired mobility, or those who live in disaster-prone areas.
The July AFPHS Training further shed light on how the public health sector can play a crucial role in protecting older adults and their caregivers during emergencies. Speakers Matt McKillop, Senior Health Policy Researcher and Analyst, Trust for America's Health, and
Bethany Phenix-Osgood, Planning & Resource Director and Tribal Liaison, Aging & Long-Term Care of Eastern Washington highlighted:
best practices for health department emergency action planning,
the importance of data collection for measuring resiliency among older adult communities,
the need for improved consideration and inclusion of older adults within state emergency preparedness policies and actions,
programs that can help build the capacity of state and local personnel to respond to crises among older adults in ways that promote their health, safety, and well-being,
and more.
Resources: