What's Public Health got to do with… Rural Healthy Aging?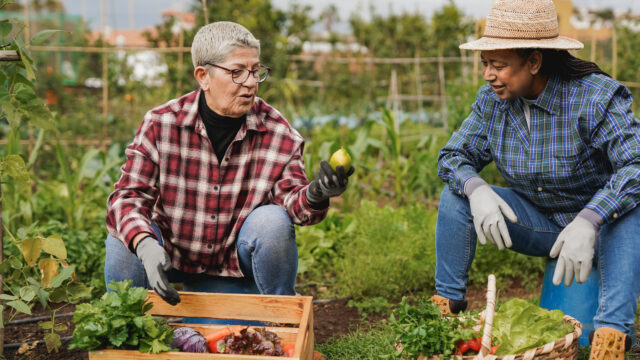 The Centers for Disease Control and Prevention defines aging in place as the "ability to live in one's own home and community safely, independently, and comfortably, regardless of age, income, or ability level". Though it is implied that community type (urban, rural, etc.) similarly should not impact one's ability to age in place, public health findings indicate that this is not our nation's reality.
The term "rural" might initially conjure images of grassy fields, rolling hills, or quiet deserts. Actually, governmental definitions for rurality include measures of population density and urbanization. Consequently, a region's rural designation is often based on the people who live there rather than what an area looks like. However, the collective number of Americans living in rural is substantial, and according to recent reports, older adults make up a significant portion – over 10 million in total. Based on this number, the U.S. Census Bureau estimates that more than 1 in 5 older Americans live in rural communities.
The size of this proportion alone is notable, but the risks and barriers to health that exist in many rural communities warrant additional attention from the public health sector given the risk factors associated with rural living. These include social isolation, distance from healthcare centers, and infrastructure barriers that can result in disparities in healthy aging outcomes. Examples of these rural disparities include the higher prevalence of chronic diseases (including heart disease and diabetes) along with lower rates of physical activity, educational attainment, healthcare access, and social connections.
The September AFPHS training calls attention to the distinct challenges faced by rural older adults during aging as well as the barriers encountered by public health interventions attempting to reduce them. Dr. Aaron Guest, is the primary author of TFAH's new issue brief, Ensuring Age-Friendly Public Health in Rural Communities: Challenges, Opportunities, and Model Programs and an Assistant Professor of Aging at Arizona State University. In the training, Dr. Guest offers recommendations from the brief for promoting healthy aging in rural communities based on the Age-Friendly Public Health Systems 6Cs Framework. In addition, Danielle Nelson with the Office of Rural and Targeted Programs at the Federal Transit Administration highlights several transportation programs and opportunities for rural communities.
Here is a glimpse into the issue brief's recommended strategies:
Creating and leading new initiatives and opportunities for engaging stakeholders and community organizations in rural environments.
Connecting and convening state rural health associations, state offices of rural health, and state public health associations.
Coordinating with service-delivery partners within the local community, county, and adjacent regions to bridge service delivery silos.
Collecting age and place of residence information among state health data so urban and rural data can be distinguished and needs and disparities identified.
Communicating about available programs and services using language and communication channels that best fit the needs of each rural community.
Complementing existing community health worker programs and expanding their capacity and role in supporting rural community health.
Resources:
Community Transportation Database
Technical Assistance Coordination Library