What's Public Health Got to Do With… Reframing Aging?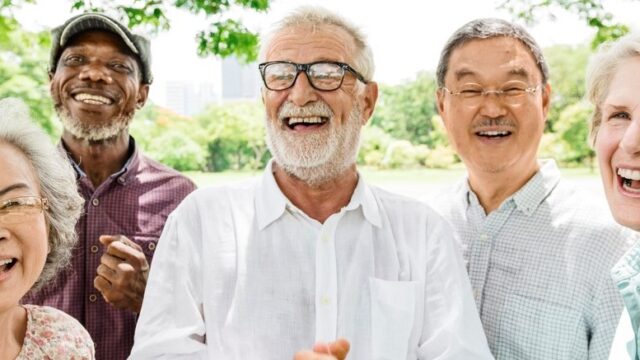 January 2022
by Patricia M. D'Antonio, BSPharm, MS, MBA, BCGP
Vice President, Policy and Professional Affairs
The Gerontological Society of America
The Reframing Aging Initiative is generating a groundswell for change – from local efforts to national leaders – to tell a more balanced story of aging. This story explains that good ideas know no age limit, and that experience and wisdom can be tapped to benefit us all. Our words matter. Changing how we communicate will change attitudes about aging, and ultimately, will advance policies and programs that support us at every age and stage of life. This initiative is powered by research and proven to change how people think about aging.
Research from Becca Levy and colleagues show that the one-year cost of ageism is $63 billion and that the reduction of ageism would not only have a monetary benefit for society, but also have a health benefit for older persons. Our misperceptions about aging are deeply rooted in us at a very young age, and we often do not recognize our implicit biases with respect to aging. The good news is that we can decrease this implicit bias by using well-framed messages that promote a more complete understanding of the aging process.
The words we use shape the discourse. How we discuss topics shapes thinking. How we think about issues shapes behavior and leads to policy change.
By implementing the principles of Reframing Aging, all individuals in this thriving ecosystem can help the public understand that there is much we can do, together, to ensure well-being as we age.
This effort led by The Gerontological Society of America on behalf of the Leaders of Aging Organizations is funded nationally by the Archstone Foundation, The John A. Hartford Foundation (funder of the Age-Friendly Public Health Initiative), RRF Foundation for Aging, and the SCAN Foundation. Working with our research partner, The FrameWorks Institute, we've mapped the terrain and developed the strategies to navigate to a higher ground. Now we need to build the caravan, equip the travelers, and start moving. This is where you come in. I encourage you to explore the resources and start to implement the proven communications strategies.
There are small steps you can start to take today. Listen to one of our interviews, review the recent webinar as part of the Age-Friendly Public Health Systems training, and adopt some of the changes noted in our Quick Start guide.
If you want to expand this work in your jurisdiction, we provide services to support organizations develop good framers, define a local vision for implementing the evidence-based communications strategies, and provide technical assistance to sustain a local initiative. Contact us at reframingaging@geron.org to learn more.
Changing American culture is challenging and changing attitudes and behaviors around the universal experience of aging is especially so. Join us on the caravan to improve the public's understanding of aging. Together, we can shift thinking, attitudes, and behaviors associated with aging-related issues.
December 2021 post: What's Public Health Got to Do With… the Age-Friendly Ecosystem?