U.S. Department of Health and Human Services
TFAH is honored to partner with the Office of Disease Prevention and Health Promotion (ODPHP) at the U.S. Department of Health and Human Services. This collaboration supports healthy aging initiatives across the nation and in every state to build the foundation for expanding multi-sector efforts to improve older adult health and well-being and advance health equity.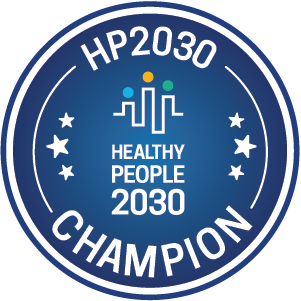 TFAH shares the Healthy People 2030 vision of "a society in which all people can achieve their full potential for health and well-being across the lifespan." TFAH is pleased and honored to have been selected as a Healthy People 2030 Champion and commits to supporting the goals of the initiative and to working in partnership with ODPHP and other HP2030 Champions to address the health and well-being of Americans across the life span.
The Healthy People 2030 website offers resources on the Social Determinants of Health, the leading health indicators, and robust data that health departments can access to identify their public health priorities.
ODPHP also offers a Healthy Aging page, with numerous resources, blogs, and links to support healthy aging programs and services.
TFAH was pleased to co-sponsor and co-facilitate the 2021 National Healthy Aging Symposium, which brought together hundreds of public health, health care, academic, research, and aging services experts and practitioners to continue to build the foundation for healthy aging in the U.S. Resources and recordings of the Symposium sessions can be accessed here.
Healthy People 2030 Champion is a service mark of the U.S. Department of Health and Human Services. Used with permission. Participation by TFAH does not imply endorsement by HHS/ODPHP.
U.S. Centers for Disease Control and Prevention
TFAH works with the Centers for Disease Control and Prevention (CDC) to promote optimal health and well-being across the life span. This partnership includes hosting CDC speakers at Age-Friendly Public Health Systems trainings, webinars, and conferences. TFAH also promotes CDC healthy aging resources, including:
The Healthy Brain Initiative which offers resources to improve understanding of brain health as a central part of public health practice. The initiative creates and supports partnerships, collects and reports data, increases awareness of brain health, supports populations with a high burden of Alzheimer's disease and related dementias, and promotes the use of its Road Map series: State and Local Public Health Partnerships to Address Dementia: The 2018–2023 Road Map, and the Healthy Brain Initiative Road Map for Indian Country. The Road Map series provides actionable steps to promote brain health, address cognitive impairment, and address the needs of caregivers.

The STEADI program (Stopping Elderly Accidents, Deaths, and Injuries), which provides resources and programming to identify and minimize risk factors that lead to falls among older adults.